This picture shows the camera's top deck, uncluttered and containing most of the controls, left to right: film rewind with film speed reminder, film-cutting knife, interchangeable prism, shutter speed knob, rewind-enabling button (also used for multiple exposures), and the film-winding lever with a frame counter.
The protruding shutter release plunger could be rotated (very much like on some Exakta lenses) to close down the aperture for depth-of-field preview.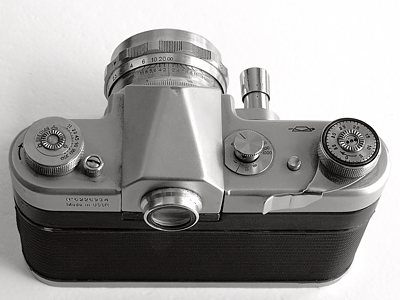 A total of about 75 thousand of Start cameras were made. There were just two slightly different versions: the earlier one had a finder release button on the back and old-style shutter speed sequence (with 1/5, 1/10, 1/25s, etc.); the later version lacked the button and used the modern speed sequence (including 1/4, 1/8, 1/15, 1/30s etc.). Also, the early production had a film winding lever with a knurled button at the tip, while the later variant had a lever with flat end (shown here).
The particular camera shown in these pictures has a history: it was the first camera I bought from my own money, back in 1965. I used it quite a lot for the next sixteen years, and it never needed a repair before being retired in favor of a Minolta XD-5. Then in 1984 I sold my Start to a friend before leaving Poland for the U.S. Last year, during a visit to Poland, I met that friend who gave me the camera back. A full circle.
For examples of pictures taken with the Start more than thirty years ago, see my Bukhara, Khiva, and Moscow gallery pages.
Camera specs at a glance
These specs are based on a few (late) Starts I was able to handle, and on the available resources on the earlier model (probably manufactured in smaller numbers).
Shutter: focal-plane (cloth, horizontal); 1s to 1/1000s and B
Lens: Helios-44, 58mm/2.0; focusing from 0.7m
Aperture: automatic (plunger on the lens) with DOF preview
Return mirror: no
Flash synchronization: at 1/25s or 1/30s (depending on camera version); separate, standard sockets for electronic flash and single-use bulbs
Viewing: interchangeable pentaprism or waist-level finder with magnifying glass; user-replaceable matte glass with split-image rangefinder circle; 100% frame coverage
Self-timer: yes, about 12 seconds
Film transport: right-hand, short-stroke lever; film moves right to left to a special receiving cartridge; film-cutting knife; rewinding knob (also used for multiple exposures)
Film loading: Detachable back/bottom secured by two rotating knobs
The camera is, of course, entirely mechanical, so it uses no batteries.
Start vs. Exakta
At that time Start was the only competition to the Exakta available within the Soviet Union and the Soviet-dominated part of Europe. It was (in principle, at least) the only other system camera, providing not only interchangeable lenses, but also finders and viewing screens. I believe had the lenses and accessories been actualy manufactured, Start would have given Exakta a close run for the money, at least east of the Elbe river.
Although bigger and heavier than the East-German king of the hill, Start was better ergonomicaly designed: right-hand release, all shutter speeds on one dial, short-stroke film wind.
Quality-wise it was not too shabby either. Although at that time it looked and felt somewhat crude as compared to Exakta, all Starts I have handled in the last few years passed the test of time surprisingly well: working and accurate shutter with cloth intact, well-preserved leatherette, breach-mount lenses fitting snugly. Overall, the camera is as capable of being put to use now as when it was taken off the box.
The Start was sold at less than 40% of the then-current Exakta price (which placed it at par with the Praktica IV series). It never threatened Exakta's reign in the Soviet block only because it sadly lacked any extra lenses, extension rings and other accessories. (In the West Exakta was doomed anyway, unable to compete with Japanese SLRs which were not available in the East.)
Additionally, Soviet-made cameras had a (not always deserved) reputation of being low-quality, crude and unreliable. This did not seem to be the case with the Start, but once a label is attached, it stays for a long time. This is how this, quite well designed and made, camera went into oblivion after only seven years on the market. Close, but no cigar...
Web resources